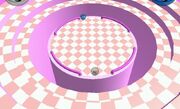 Warm-up Arena is the first arena in the Rodent Rumble mode. As it is the arena that is part of the first three races, the first 3 arenas are automatically unlocked after installing the game. This map is good for arena mode practice and is suitable for beginners. This arena works as a basis for other arenas.
Obstacles
Edit
Rails - They prevent people from falling off.
Level Information
300px
The Warm-Up Arena

Level type

Arena

Previous Arena

N/A

Next Arena

Enemies

None

Signature feature

The first arena
The Glass Arena resembles an upgraded version of the Warm-up Arena, except that it has 3 rails and a glass surface.
The Warm-up Arena is one of three arenas that unlocked in the beginning of the game.
This is one of the 3 arenas made for beginners, the others being the Beginner Race and the Intermediate Race.